According to new research from Cerulli Associates, a Boston-based global analytics firm, the competition within the liquid alternative space has intensified with alternative managers entering the retail space. Alternative Products and Strategies 2013: Identifying Enduring Opportunities in Complex Markets is a comprehensive sourcebook for asset managers that manufacture and distribute alternative products in the U.S.
"Demand for alternative assets has heated up. Investors and advisors look to these assets to provide portfolio diversification, enhanced returns, and to manage risk," states Pamela DeBolt, senior analyst at Cerulli Associates. Over the past decade, more traditional asset managers have been steadily crossing over into the alternatives space. Firms are developing alternative asset products or acquiring alternative asset businesses to augment their traditional fund offerings and diversify their revenue sources.
"As investors' appetites for alternative investments continue to grow, asset managers have been broadening the options available," explains Michele Giuditta, associate director at Cerulli Associates. "Asset managers are developing alternative assets in a liquid '40-Act mutual fund format for retail investors."
Opportunities for hedge fund managers to cross over into the liquid alternative mutual fund space have accelerated since the financial crisis of 2008.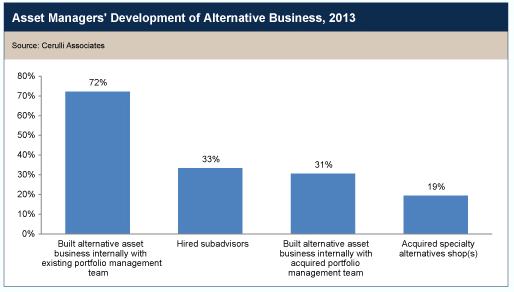 Cerulli research shows that most firms have built their alternative businesses internally, while one-third have expanded into alternatives through hiring subadvisors. In 10 years, managers surveyed by Cerulli anticipate that on average, alternative mutual fund assets will account for 13.6% of total mutual fund assets, up from 2.2% at the end of 2012.
"Managers should be aware of the unique distribution requirements of alternative funds versus traditional funds." Giuditta continues.
---------- découvrir les lettres et newsletters d'Esteval Editions ----------